HEADLINER
Get your head around it: being the star of the show is no biggie when you pamper your mane with an herbal moisturizing shampoo, made from Laminaria seaweed from the Gaspésie Peninsula. This show is yours to headline.
How to use - Run the shampoo bar through your wet hair, from scalp to hair ends. Massage in the suds with fingertips. Rinse.
Scent - Fresh, botanical scent of lime essential oil, bergamot, lemon verbena, cedar leaves and oceanic notes.
Texture - Dense and creamy foam with small pieces of seaweed to add vitamins and minerals.
Hair type – The bar is formulated with extremely gentle cleansers that have the ability to lather up a lot, even with a lot of oil. This makes it great for oily hair, while being perfect for sensitive scalps and dry hair. It's also great for color-treated hair and very curly hair.
Key Ingredients - Along with seaweed from Gaspésie and hydrolyzed oat protein, exotic sal butter deeply nourishes the hair. Result: a rich and abundant foam that is incomparable to other shampoo bars. A must for you to try, you can trust us.
Size - 1 bar of 200g. (recycled cardboard box of 3 in x 3 in x 1.75 in)
Ingredients – Sodium cocoyl isethionate, Sal butter, Cetyl alcohol (vegetable wax), Steatic acid (vegetable wax), Cocamidopropyl Betaine, Hydrolyzed oat protein, Coco-Caprylate, Grapeseed oil, Plant-based glycerin, Sodium lactate, Titanium dioxide, Laminaria seaweed from Gaspésie, Fragrance (100% natural), Bergamot essential oil, Lime essential oil, Cedar leaf essential oil, Vitamin E, Verbena essential oil.
Shhhh, don't tell our competitors!
You got what you paid for and even more
All our new customers tell us: "I didn't expect the products to be this big when I opened the box!" Our quantities are generous for the price, but don't think that's because the quality is lower! So, what's our secret?
1. Tiny products means you need to buy more! With that thinking, manufacturing small products that do not last is not environmentally friendly and we wouldn't forgive ourselves for that!
2. We manufacture all of our products at our workshop, rather than delegating production to laboratories like most other cosmetic companies. Result? It is possible for us to offer much better prices for our beloved customers!
3. We don't want to brag, but you are crazy about our products, so we buy most of our ingredients at the source in large quantities and we have access to excellent prices that are reflected in the cost of our products.
No secrets
We say NO to greenwashing! We are proud of our ingredient lists and we are not embarrassed about showing it online! After all, you have every right to know what you're putting on your beautiful body!
If you want to know more about an ingredient, refer to our section right here, which describes in detail all of the ingredients we use in our products.
Fast shipping
As quick as a flash ;)
We know the satisfaction of a quickly delivered package, so we make it our mission to ship your order in 1 to 2 business days.
Diversity all the way
You are beautiful! Learning how to pamper yourself, without constantly trying to change yourself with anti-wrinkle cream or anti-cellulite balm, should be the norm.
To have a positive impact on the self esteem of our customers, we have decided to never photoshop our models, because it's important to display realistic beauty standards.
After all, we're all beautiful, right?
OUR VALUES
Sustainable packaging
All our tubes are made in Quebec from plastic entirely recovered from the oceans in order to clean up waterways.
In addition, all our boxes are locally made from 100% recycled cardboard.
Local ingredients
Highlighting the ingredients of the Canadian territory is our main concern.
By buying our products, you're also encouraging a bunch of local producers and small businesses. Because supporting our community and local jobs is essential.
100% natural, without compromise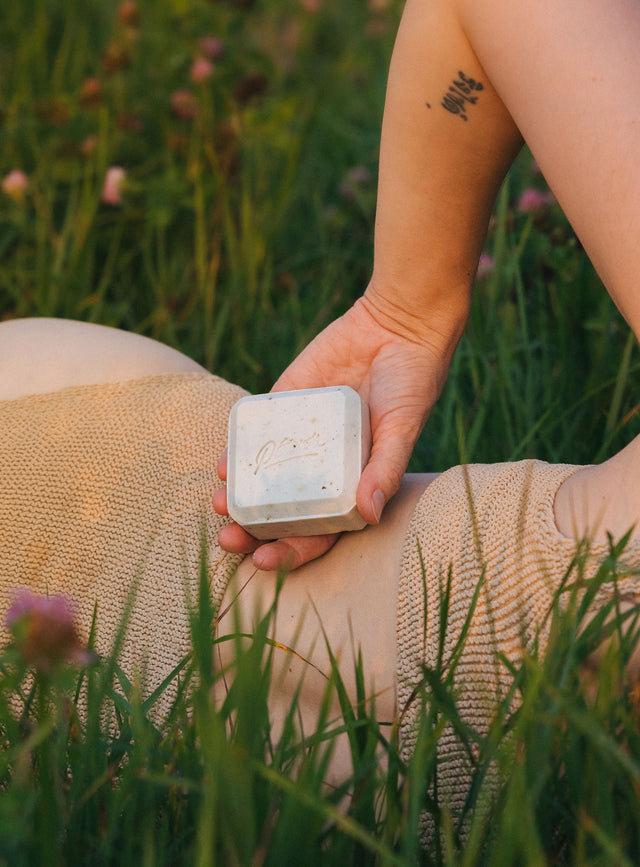 Don't spend hours analyzing the ingredient lists. All our products are made entirely from natural and biodegradable ingredients.
Shampoing aux algues
J'aime bien ce shampoing il est doux pour les cheveux.
J'adore
Tout est parfait!
Il mousse à merveille, il sent bon, mes cheveux sont doux, brillant et souple!
Le seul inconvénient est qu'il n'entre pas dans une boîte de savon pour voyage.
Shampoing solide aux algues
Vraiment un bon produit! J'adore
J adore!!!
Ma seule tristesse de ce produit est qu il dure tellement longtemps que je ne peux pas me permettre de faire des achats impulsifs.
Mousseux à souhait
Ce shampooing est un incontournable, c'est mon 2e rachat et je ne m'en passe pas, autant pour un co wash qu'un lavage complet, il est parfait pour un lavage de frange rapide. (Team front gras) de plus, il sent bon et mes cheveux font de merveilleux frisous et vagues sans être asséchés. Je l'aime d'amour!